We started out day with FREE breakfast! Chick-Fil-A has this sign up for the month of July.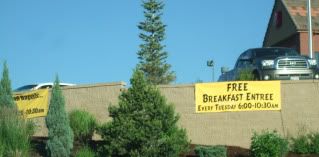 Today was the chicken biscuit - yum! We took along water and plums, and we went through the drive-through.
They were a tasty treat for fishing day.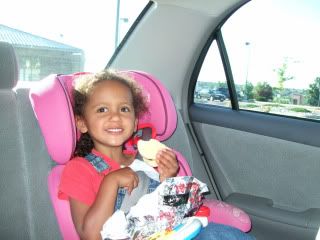 We ate these on the way up to the reservoir to do a little fishing. I never got one bite! Hubby had a few bites, but no catches. Little Bit still doesn't have a hook on her fishin' pole. At 3 1/2 years old, she's still a little wild with her casting (though she's getting better!), and we'd prefer not to have a hook lodged in any of us.
We packed sandwiches, carrot sticks, cherries, chips and sodas from home, along with plenty of water to drink. As it turns out, we didn't eat the carrots or cherries, because our hands smelled all 'bait-y'. Yick! Once we were home, we had some in for a snack.
Supper was broiled chicken (since we didn't have any fish), some Rice-A-Roni Naturals noodles and leftover mixed veggies from the day before. The chicken pieces were in a bulk pack, and the cost per piece was 40 cents. I got the Rice-a-Roni and the Steamfresh veggies for free with coupons, so it was a very affordable meal. We had some cherries and leftover birthday cake for dessert. The cherries are home-grown, so they were free too!
I still haven't done any shopping since the challenge started - all the items listed above were items that we had on hand. Just sayin'.
Tonight I've been shelling peas. I have to pick more in the morning, then I may be freezing a few pints. I've got sugar-snap peas as well, along with a few snow peas. Little Bit and I are going to have a 'clean out the fridge' stir fry for lunch, and we'll toss the snow peas in that. Our garden saves us so much money, and we get to eat yummy, fresh and organic. More about it soon!