We started our day with homemade buttermilk pecan pancakes with maple syrup and home-grown nectarines (from our freezer). It was a yummy Sunday breakfast with a tall glass of milk!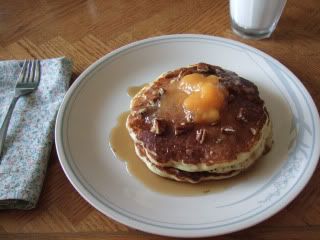 For lunch we had leftover lo-mein noodles (whole wheat noodles, vegetables and pork).
Supper was petite sirloin with horseradish cream, baked potatoes with sour cream and butter, garlicky green beans and water to drink.
We snacked today on graham crackers, snickers, fresh cherries, raw zucchini and dried zucchini chips.
I did more canning and food preservation today, which will help us spend less on groceries through the winter. I put up 7 quarts of green beans, 8 half pints of cherry jelly and 3 half pints of cherry syrup. I also finished dehydrating glace' cherries and started some thin-sliced and shredded zucchini. The jelly and syrup are a by-product of the glace' cherries that I didn't want to waste. The thin sliced zucchini is sprinkled with a little seasoned salt, and we can use it for chips. The shreds are to add to zucchini bread once zucchini is out of season. By doing a little extra work now, our garden helps feed us year-round.
Today was the last day of a sale on 2 liter pepsi products - I stocked up to have them on hand for times when the price is high. Spent $2.36.