I used to read about those people who went to the store and got shopping carts full of stuff for $1.58, and I always thought it was amazing. I also thought it was difficult, time consuming, and somehow, maybe not completely legal. I mean, really, can you get that much stuff for little or no money?
Oh yes...yes you can.
Take a look here at some of my coupon adventures.
Especially, check out those photos where there are a bunch of groceries on the counter, and a little sign showing what I paid in cash for all the stuff. It's amazing what you can do!!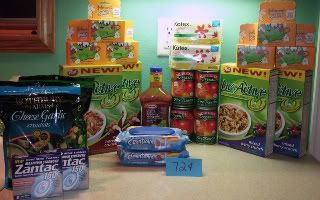 I'm not exactly a coupon queen - more like a coupon puppy or something (sorry, I can't use the word 'princess' in a sentence that describes anything about me). Over the course of the last couple years, I've learned how couponing works, and I'm convinced that it can save you a lot of money. There are, however, a few requirements.
1. It does take some time to find the sale/coupon combos that give you the best results. Fortunately, there are sites that help with this tremendously. My favorites are www.moneysavingmom.com and www.hotcouponworld.com (though that second one is verrrry busy and a little overwhelming for me). It takes time week to week to organize things, but you get faster with time. Plus, once you end up with a shelf full of shampoo and toothpaste that you got for free (also toilet paper and cookie mixes, fresh pineapples and buddy soap, chicken nuggets and barbecue sauce, peanut butter and yes, chocolate!), you can focus on the things you're low on, and not have to scurry around after every deal.
(psst - this stuff was all free!)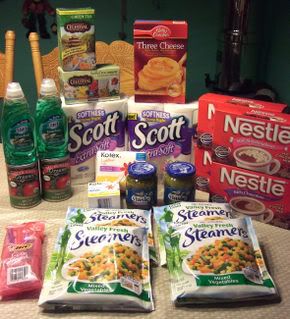 (this stuff too!)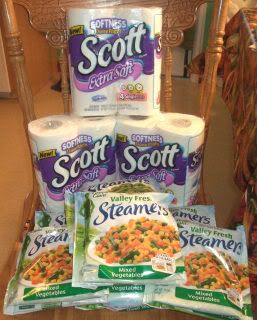 2. Brand loyalty kinda goes out the window. Then again, I have a lot more name-brand stuff on hand than I used to. I only have a couple of things that I am very brand specific for. Most everything I will go for the best deal. If it's a new (to us) product, I will try one before I stock up, to make sure we like it, but I'm blessed with a family that is not picky, so most of the time, we're good to go. If we get something in multiple and we don't like or use it after all, we donate all the new unopened packages to the food pantry.
($3.06)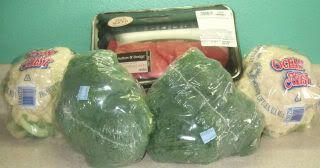 3. It's generally a lot easier in a metropolitan area. Why? Because the stores compete with one another, and there are more of them. You're more likely to have stores that double coupons. Also, bigger city, better coupons in the Sunday paper. That said, I wouldn't pass up free toilet paper (or shampoo, or all that other stuff I listed, plus more) just because I couldn't get everything else cheap or free. Many sales/promotions are national, and every little bit helps!
4. If you have a printer, you can print a lot of internet/online coupons. In a lot of cases, these seem to be the 'high dollar' ones. Also, if you have two printers (this is far more common these days than I ever realized) you have the opportunity to print even more of many of the coupons that are available. The savings easily pays for the ink and paper - really!
5. If you're willing to ask friends/neighbors/co-workers for their unwanted coupons, you can buy the 'good deals' in multiples. I know that some people buy multiple copies of the Sunday paper or they use 'clipping services' to order coupons, but we have found that for our family (just three people) we can get leftover coupons from friends, family and the break room at hubby's work. It's not always a sure thing, but so far, it's been a blessing and we've always gotten just what we need.
(nineteen cents)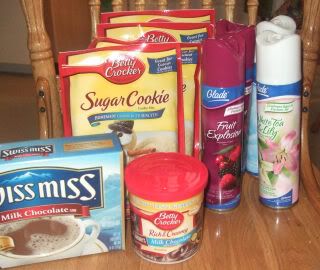 I learned couponing over time. I started with one 'deal', and then did another, and then another. It would be redundant for me to go through all the how-to stuff when www.moneysavingmom.com has some really good tutorials and information, so I'll just encourage you to go there and check it out! If you're here because you're an All-You magazine reader (me too!) then you also know that magazines - particularly All-You - can be a great coupon resource as well.
Personally, I think it's a really good idea to start small, take it slow, and grow your knowledge and understanding of how couponing works over time. Rather than rush out and order coupons from someone on ebay, maybe read some couponing tutorials online. Look at the sale ads from your local grocery stores and see if you can match up a good price with a good coupon. Find out which stores double coupons, which ones do (and do not) take internet coupons, etc. Eventually, you'll be packing out bags of groceries while still keeping your hard-earned money.
It has worked for me, and for a lot of others. Why not give it a try? Or, if you're a seasoned coupon shopper, leave a comment and share your favorite tips and strategies here.