Today was a lot of shopping and a lot of saving. Before I get to that, this is what we were eating:
B: cereal and milk w/fruit for hubby, trail mix and apples for Little Bit and me.
L: chicken sandwich, slaw, carrots, fritos, fresh cherries, tea for hubby. Little Bit and I went to Burger King and shared a Whopper (no onion, no mayo) and small fries. $1 size drink for me, water for her.
S: whole wheat spaghetti, homemade meatballs in Prego, 100% whole grain garlic/cheese toast, home-canned green beans
Snacks: graham cracker and milk, raw peas, green beans and carrots right out of the garden (literally!)
OK. On to the shopping!
This first one kinda happened by accident. I belong to a weight loss group called TOPS - take off pounds sensibly. My job in our chapter is to buy fruit for everyone who has a birthday. There were two ladies with birthdays this week, so I got them each a banana, an apple and an orange. That is what I'm supposed to get, no matter what. Anyway, when we got to the church where we meet, no one was there. Turns out there was a funeral today and we couldn't meet, but no one contacted me. So...I can't let the fruit go to waste and it won't keep a whole week (at least, not the bananas), so it becomes part of our groceries, I guess. Total spent for the fruit - $2.66.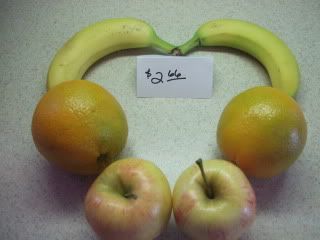 Next is Albertson's. They had Honey Nut Cheerios on sale for $1.50 a box. If you buy 3, you get a catalina for a free gallon of milk (up to $4.50). I had six coupons for Honey Nut Cheerios, each for $1 off, so I did two separate transactions. I spent $3 and got six boxes of cereal plus coupons for 2 free gallons of milk. Woot!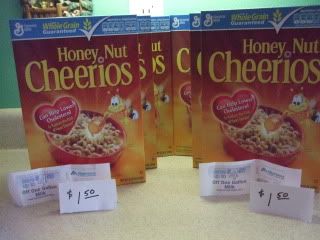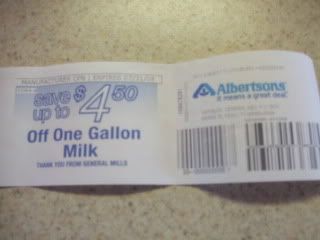 At Super Target we picked up some veggie burgers. I was able to use a Target coupon for $2 off 2 packages, plus I used two $1 off manufacturer coupons. Total: $2.28.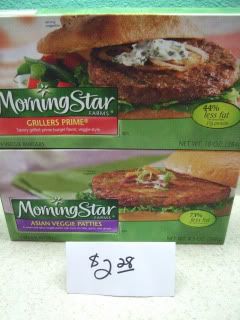 Then, King Soopers. This is where it gets REALLY fun! Hubby found this coupon in an ad at his work last week.

So, last Friday I dropped of a prescription to transfer. It usually takes some time, so I picked it up today, and they added a $20 credit to my King Sooper loyalty card. Twenty bucks, and all I did was drop off a bottle that was last filled at a different pharmacy. Now and again they have these offers at various pharmacies in our area. I have moved this prescription any time it has worked out for me to do so, and it's gotten us a LOT of groceries for free.
So, I'm starting with a free $20. I did two transactions at King Sooper. Here is the first one: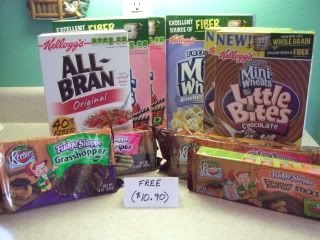 The gentleman who was running the register took the total off my Sooper Card before I gave him my coupons, so it used $17.90.
Me: Wait - I have coupons.
Him: I already took it off the credit on your Sooper Card.
Me: But...I have coupons!!
Him: Oh. Well, let's try something and see if it works.
He scanned the coupons as part of the transaction - $7 worth of them!
Then he gave me $7 cash.
See, coupons ARE money! I knew it!
So...if this had gone through 'correctly', the total would have been $10.90 after the coupons. Instead of using money, I used the 'free money' from the prescription.
But wait! There's MORE!
These ten items are all part of a rebate that Kelloggs has right now. I send in my receipt, the UPC's and a form, and I get....$10!! So I got that stuff for ninety cents. Go ME!!
Next transaction was this stuff: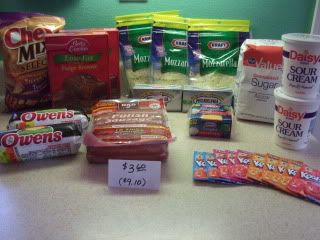 This one didn't go
quite
as low as I'd hoped - a few of my coupons didn't double - and it cost me $2.90 more than I was expecting. Then again, some coupons don't double, and that's how it goes sometimes. Anyway...after the sale prices, after the remaining credit on my loyalty card, after the coupons, I was left spending $10.60. He just gave me $7 cash, so really, I only spent $3.60 out of pocket.
Counting the $20 credit as a coupon (that's how I've always figured it) I used $55.10 in coupons. If I add up all the stores I went to today, I spent $11.54 in actual money. I'll be getting $10 of that back as a rebate from Kelloggs, and I have coupons for 2 free gallons of milk. That's really good!
Wow. Not bad for a coupon puppy!
Finally, we went out for lunch as a treat. On the back of any Burger King receipt, there is info you can use to take a phone survey. It takes a couple minutes, talking to 'Jennifer', the computer-generated-super-nice lady. At the end, she gives you a code. With that code, you can get a free Whopper or Chicken sandwich if you purchase any size fried and any size drink. It looks like this: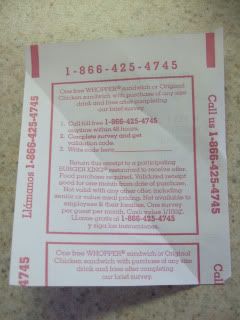 I had one of those, with a code from taking the survey. A Whopper is a BIG sandwich, so Little Bit and I shared. We got a Whopper (no mayo, no onion) a small fries and a $1 value size drink. Total: $2.78. You could do this for even less with a value size fries ($1), but for the two of us, the small, and sharing the burger works out just right. I have the soda, she drinks water, then we go to the playland for a while.
So, that was our day. We got a lot of stuff! I shop this way whenever I can. Some weeks (like this one) it's cereal week. Some weeks I get frozen veggies or toilet paper or shampoo for nothing or next to nothing. Sometimes they pay me to take stuff! When you shop like this over time, the pantry gets well-rounded, and there is a good selection of healthy foods, staple items, treats, snacks, etc.
I hope this was helpful. Got questions? Ask 'em! I'll do my very best to answer them for you!