This is the fourth meal from that same chicken, and we still have a good amount of chicken broth left. That broth and this chicken have been in the freezer to prevent spoilage, just FYI.
Let's make a simple, yummy main course for lunch.
This is the easiest pizza you can make, I think, without ordering from somewhere. You start with tortillas and a thin cookie sheet. I have thicker pans that look nice, but the crust doesn't get crispy on them, so welcome to the ugliest baking sheet at Ten Things Farm.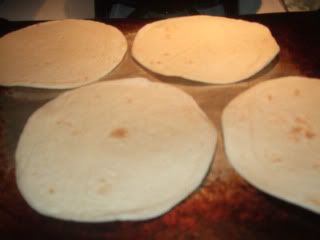 My mom says that barbecue chicken pizza is NOT pizza. That might be true, but if I call it barbecue sauce and chicken on a tortilla with cheese and stuff, it takes too long. I don't want to start anything (Mom), so cut me some slack, K? Anyway, spread some barbecue sauce on the tortillas. Then top them with cheese.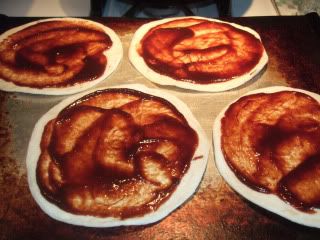 Don't get too crazy with the cheese either. If you put a ton, it'll just ooze off the edges and stick to the pan. With such a thin crust, a little goes a long way.
Top with the chicken.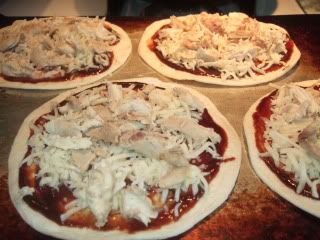 Right there, you're good to go, but before you put that in the oven, check the fridge for other toppings. We found black olives, red onions (garden), crumbled bacon (free with coupons last week at Safeway - woot!)and mushrooms for me! So we topped each chicken pizza to individual preferences.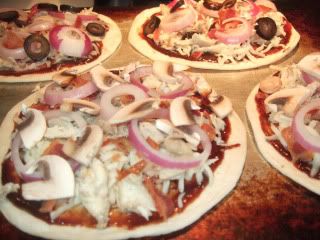 Bake at 425 for about 15 minutes if you like crispy crust. Check after 10 minutes though - I live at high altitude and things take longer to cook. Toss a salad, pour some tea, and enjoy!
Did you notice there's already one missing in the last photo? Hee hee. I made five of these today - two for each adult, one for the kidlet, and I still have some chicken left. Yay!
(Psst - if you ever need snacks for Game Day, make a honkin' pile of these and call them barbecue nachos!)
I bet you can think of a hundred other chicken stretcher meals - these were just a few to encourage us all to be creative and have fun while we save money. I hope you liked them!