Last week, whole chickens were on sale in my town for 57 cents a pound. That's a really great price - at least here - so we stocked up, to the tune of 20 chickens. I don't want my family getting bored with chicken, so I'm challenging myself to mix it up with different flavors so that we really enjoy all this chicken.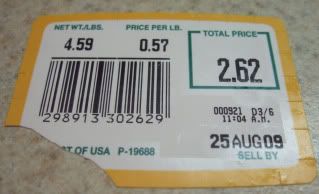 The first thing I did was cut up the chicken. I didn't take how-to photos for a few reasons.
One - even though I've done it a million times, I'm not the world's best cutter-upper of chicken.
Two - I didn't want chicken goo on my camera.
Three - please see number two.
Anyway, here is the chicken - cut up. The bowl in the back on the left is everything you don't really want to mess with - back, breastbone, wing tips, skin, neck. That's the start of some broth I'll use later in the week. I *did* take a picture of all that stuff in the pot, in water, but honestly, it looked pretty grody, so let's just skip that pic, shall we?
The bowl on the right is skinned legs, thighs and wing segments.
On the left (on the cutting board) are the two breasts and the tenderloins. You'll notice that I cut the 'pointy part' of each boneless skinless breast off. I also shaved about a half inch of thickness off the thickest part of each breast to make the meat a more even thickness.
On the plate the front is extra breast meat. It's not a normal 'part' of chicken, but it's a good amount of meat, and we'll be using it for a really yummy something very soon.
Tonight we're using those breast pieces and tenderloins, front left, to make Buffalo Chicken Sandwiches. These are really easy - tasty too! Let's get started!
Heat the oven. Mine is on 400 because I'm roasting a pan of potatoes to go with these sandwiches. Put some breadcrumbs on a plate and coat each piece of chicken evenly. Our breadcrumbs are homemade from leftover bread ends, so basically free. I've tried different 'dips' like milk, egg, etc., but just pressing the chicken into the crumbs works fine, saves a step, and gets us that much closer to supper.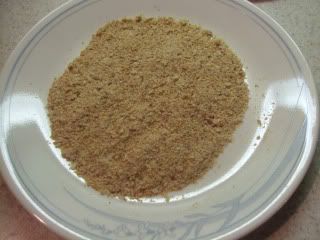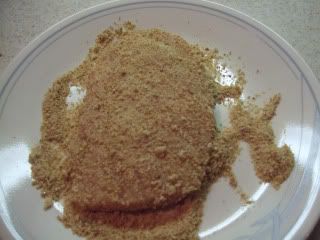 Spray a little nonstick spray in a heavy pan. If you use nonstick spray, you will need very little oil for the saute'. I don't know why it works that way, but it does, so that's how we do it. Cook the chicken on medium heat until the breadcrumbs are a medium brown, then turn to cook the other side.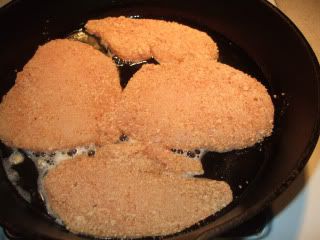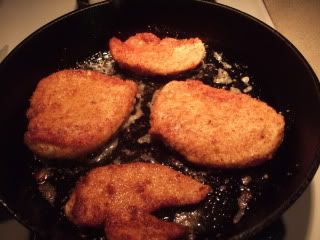 While the chicken is cooking, make celery sticks and put some Red Hot Sauce on a plate. (Put any celery leaves/tops into that chicken broth that's simmering on the stove, too!)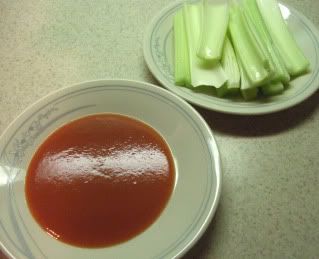 Lay the chicken in the hot sauce, turning to coat. If you have little kids, use barbecue sauce for theirs, or leave them plain. Little Bit wanted the tenderloins tonight, and she had them with barbecue. Put all the coated chicken on a baking sheet and pop it in the oven. This will ensure that it's cooked all the way through without burning any breadcrumb. It also mellows the Red Hot Sauce some, and allows the flavors to blend.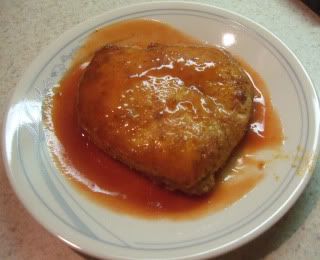 While the chicken is in the oven with the potatoes, mix some ranch dressing mix with some sour cream. Make enough to put some on the buns and have some for the celery. Thin it with a bit of water if needed - sometimes it's really thick.
Warm the buns, slice them open if they're homemade, and put some of the ranch dip. Then put the chicken and some lettuce (I don't have any lettuce in the house, and it's already dark out, so I'm not going to the garden to get some - I'll plan better next time!).
Taadaa! Supper is ready! Not a great photo, but it's late, we're hungry, and I'm not making my sweet family wait while I figure out the lighting, hee hee.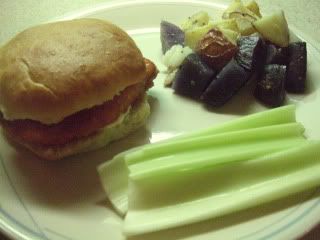 So - there's one meal - Buffalo (or Barbecue) Chicken Sandwiches on homemade wheat buns, celery and ranch dip, roasted potatoes and onions from our garden. It was delicious! It would have been great with some cole slaw, but I ran errands, hung out two loads of laundry and mowed most of the yard today. Maybe next time.
(Psst...how-to for the roasted potatoes is here.)
Meanwhile, that bowl of chicken bones/skin/stuff was simmering on the stove with some water and celery tops. I got about 8 cups of broth and 3/4 cup of small chicken pieces. I have plans for both of them. Big plans. Yummy plans. Easy plans. For now, the broth is chilling, and I'll remove the fat tomorrow.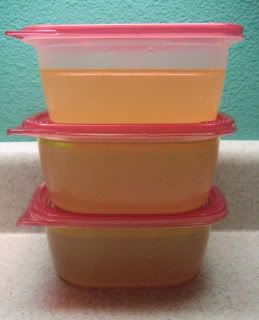 Stay tuned for our next chicken meal - coming soon!